The subscription includes :
– Equipment supply :
♦ An AVL device per vehicle with GSM and high powered GPS antennas in a small case. The wiring and maintenance operations are reduced to their simplest expression. Once installed and concealed in the vehicle, it can transmit data to GloboConnect platform in real time.
♦ A GPRS SIM card per AVL device with the subscription for all communications.
♦ The data hosting on secure servers.
♦ Two subscriptions formula purposed :
→ A rental offer "all inclusive".
→ A purchase offer for the hardware equipment and a monthly service fee.
– The assistance and hardware maintenance :
♦ Connection fees, configuration and the hardware parameter adjustment.
♦ Follow up the proper functioning of the AVL device during the time of the subscription.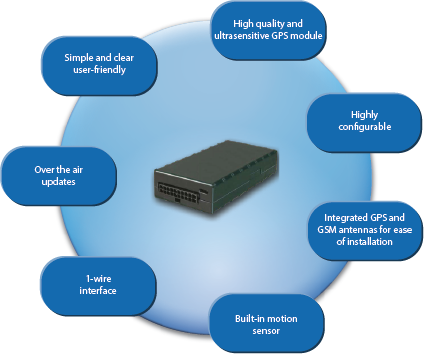 Services used on the platform GloboConnect :
– Permanent access via a user name and a password from any PC connected to the Internet for the geographic tracking of your vehicles.
– On any computer, each authorized user of the company accesses securely the data he needs to control the action.
Sending exception report (commonly known reports of alerts or anomalies) :
– In order not to overload the platform, these reports are generated and transmitted from an autonomous server.
– They will be transmitted to your convenience (type of reports, time …) to your email box.
Training your employees to the subscribed platform.
An user assistance (hotline).