Our on-board computer and multimedia solution: the all-in-one embedded touchscreen, and the Titan Android multitasking interactive software.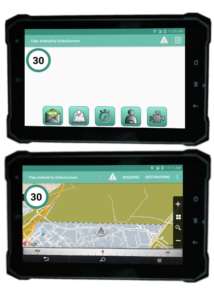 An on-board computer and multimedia solution, and an interactive multitasking software.
GloboConnect has developed a product intended for monitoring fleets of trucks and commercial vehicles, while allowing contact with the driver to be maintained from the control desk.
This product is composed of a 7 inch touch screen, the all-in-one embedded screen, and the Titan Android software.
An ideal tool for those who wish to acquire a high-performance, powerful and reliable system.
The all-in-one embedded touchscreen is a hardened on-board computer for use in hostile environments subject to vibrations, shocks and the thermal conditions inherent in a vehicle. Operating under Android, it offers the possibility of hosting its own business applications.
The all-in-one embedded touchscreen is equipped with a 7-inch touch screen, whose ultra-resistant panel makes it suitable for use by most users in a mobile and/or industrial environment, and a slot to accommodate a Compact Flash memory card with a capacity of up to 185GB.
It is compatible with the BUSCAN reader from the GloboConnect range, which gives access to information from the on-board computer.
The all-in-one embedded touchscreen comes with Titan Android, which is an all-in-one software including geolocation, vehicle fleet management and mission management.
Tracking, mission management, navigation, accidentology: all-in-one software.
Titan Android integrates modules allowing drivers to work efficiently in a comfortable environment, on a simple tool offering all the features required as an embedded computer, from pick-up of the vehicle by the driver to arrival at his destination. .
The driver has a login and a password which give him access to a messaging system allowing him to stay in contact with the control desk and the other drivers by sending or receiving messages and attachments.
His vehicle can then, thanks to the tracking, mission management and navigation functions:
– Be tracked remotely by transmitting GPS positions.
– Receive detailed mission orders and confirm their completion.
– Launch GPS guidance to your destination thanks to a high-performance navigation system throughout Europe, and suitable for heavy vehicles as well as light vehicles.
Titan Android has a blackspot management module, which references black spots requiring appropriate driving and warns the driver when he is approaching and if he is overspeeding.
Its accidentology analysis module stores all events second by second over a rolling 24 hour period. This history can be sent on command in the event of an accident.
Titan Android can be updated remotely. It is compatible with the BUSCAN reader which processes all data passing through the BUSCAN, and allows the transmission of tachograph data inherent to heavy goods vehicles.
Driver identification – Highly configurable – Messaging – Mission management – Blackspot management – LV/HGV navigation – Accidentology module – CANBUS reader compatible