Fast food delivery: why geolocate two-wheelers?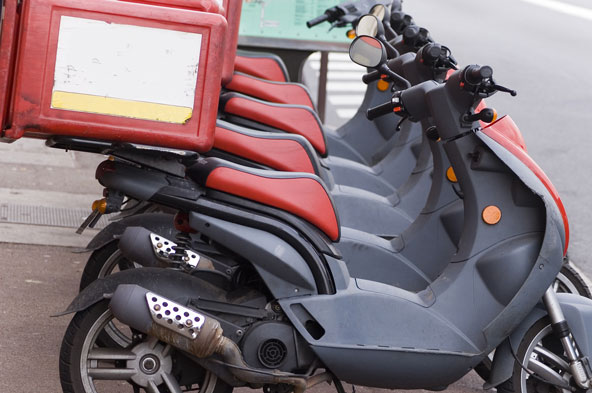 Geolocation-assisted fleet management tools, and more generally embedded computing solutions, applied in the field of fast food, can be very useful for the delivery of pizzas, sushi, kebabs, etc…
Our Silver, Gold and Platinum software provides many features of interest to fast food professionals. The needs of these professionals, in terms of fleet management, lie in the following points:
Locate motorcycles, vehicles and delivery people in real time: allows you to know what a delivery person is doing in real time, if he is driving or on a break and where, which empowers the delivery person and commits him to respecting delivery schedules.
Consult the trip histories: allows the fleet manager to find all the deliverer's journeys on the platform or by receiving them automatically by e-mail, count the number of trips, driving time and distance traveled, note traffic violations such as speeding, knowing the time slot (day/night/holiday) of a transport, and possibly checking the honesty of a driver by detecting undeclared work. Some of the fleet manager's tasks are therefore automated, for example he will no longer need to manually enter the mileage of the vehicles, which will save him time and make him more comfortable in the execution of his work.
Produce statistics and calculate the vehicles using rates: to find out which vehicles are most used and the number of kilometers on the clock, in order to distribute free vehicles more evenly to drivers, which therefore makes it possible to better target vehicles requiring maintenance. To also know the time at which the driver of the vehicle started his day and at what time he finished, which has the rapid effect of making him responsible for his punctuality and respect for his working time.
Recovering a stolen vehicle: if a vehicle is stolen, the fleet manager will send a starter cut-off command which will immobilize the vehicle as soon as the thief stops, and gives the location of the vehicle to the police who will pick it up.
Achieve maintenance savings.
Securing drivers against attacks or accidents: thanks to an alert button that we provide, react more quickly and call the emergency services.
Build a database of the entire fleet of vehicles and drivers: simplify the administrative tasks of the fleet manager by centralizing information and allowing him to organize himself better. Access vehicle information such as date of last maintenance, type of fuel or registration number, know who is driving which vehicle at any given time through the use of Dallas keys.
Be alerted by SMS or e-mail: the operator is notified in real time in the event of non-compliance with instructions, eco-driving or authorized speed; if a vehicle enters or leaves the garage, or at a specific location such as the address of a regular customer, a rest area or an area where parking is not permitted;
Contact us for more information about our products.