Loss of attention detector: safety first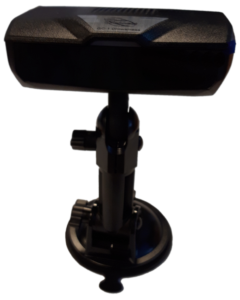 The loss of attention detector is a DMS (Driver Monitoring System) designed to be installed facing the driver using a suction cup system fixed to the dashboard. Its qualities make this device the ideal solution to keep the driver awake, encourage him to look at the road, and warn him of imminent danger if he continues to drive.
An astonishing high-tech device
Its integrated camera enables it to scan the driver's face and analyze his behavior in real time, whether the driver is wearing glasses or sunglasses, or whether he is in total darkness.
A loudspeaker sounds if he shows signs of drowsiness, if his eyes are not looking straight ahead or if his face deviates to the sides, which prevents him for example from driving while using his smartphone, or if the device detects the use of a cigarette.
Why should you get it?
1/ To prevent the risk of accidents related to drowsy driving.
While driving while drowsy multiplies the risk of an accident by 8 (for comparison, driving under a blood alcohol level of 0.5g/l increases this risk by 2), 62% of drivers said they had already struggled against sleep during business trips on the motorway, compared to 42% when traveling between their home and their place of work.
If an adult requires between 7 and 9 hours of sleep per night to regenerate his body, 32% of drivers report being sleep deprived and 12% have revealed that they have already come close to or caused an accident due to a state of drowsiness (all movements combined). The risks of accidents related to drowsiness affect more professionals working staggered hours.
2/ To prevent the risk of accidents linked to loss of attention.
While 97% of drivers own a smartphone, 38% of them read their text messages and 24% write them while driving.
In the end, the use of the telephone while driving multiplies by 3 the risk of accident and is responsible for one accident out of 10.
A tool for fleet management
If the loss of attention detector is able to assume the role of a buzzer for the driver, it also shows an interest for the fleet manager thanks to the connectivity it has.
The device can thus, via its connection with a geolocation tracker Type XX (ex: Type 2 CLASSIC) connect to a GPS, and detect whether the vehicle is moving or stationary in order to operate according to these scenarios . Its micro-USB port and its multi-cables allow you to connect an LED warning light or any type of device to get the driver out of his drowsiness, but also a video recorder to save the filmed images.
All events detected by the loss of attention detector are logged and viewable on the Platinum platform.
(Source of statistics: "Trajets professionnels sur autoroute" ASFA-APR Nov 2017).
In addition, the conclusion of the study on drowsiness while driving published by the Vinci Autoroutes Foundation on December 21, 2021: https://fondation.vinci-autoroutes.com/fr/system/files/pdf/2021/12/2021-12-21_cp_fondation_vinci_autoroutes_etude_somnolence.pdf
Contact us for more information about our products.