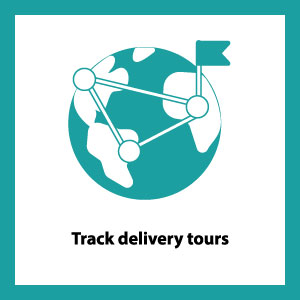 Delivery manager
Register visit points, assign them to your customers, and prepare routes for each of your delivery vehicles.
As the delivery vehicles leave the depot, the first customer on the route will receive an email containing a link to remotely track the delivery in real-time.
When the delivery personnel arrive at the customer's location, the customer will receive an email notification.
The customer will receive another email once the delivery is complete.
The next customer in the route will receive an email with a link to remotely monitor the ongoing delivery in real-time, and this process is repeated for each subsequent stop.
Each stage of the route is logged on the platform for the tour manager to review.
Once the entire tour is completed, the tour manager will receive a summary email.
Available on the Platinum platform.